The other day over the village loud speaker (worth a separate post in itself) it was announced that there would be a Morlam concert in two days time. From what I could work out it coincides with plenty of merit making at the local temple during the day and finishes with the concert on the main road which is right outside my house.
I missed a lot of the action during the afternoon as I was in town on the internet but Seerung took some photos from upstairs.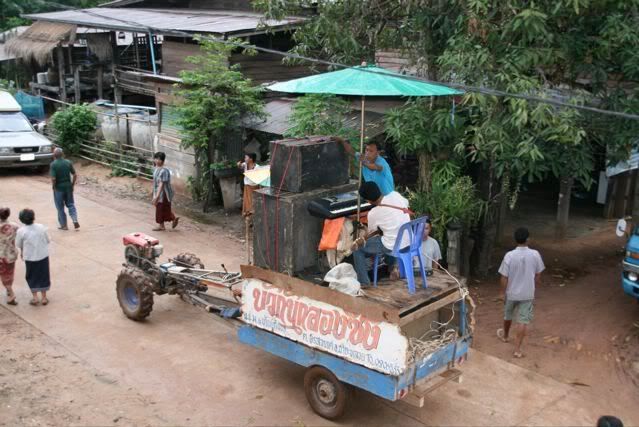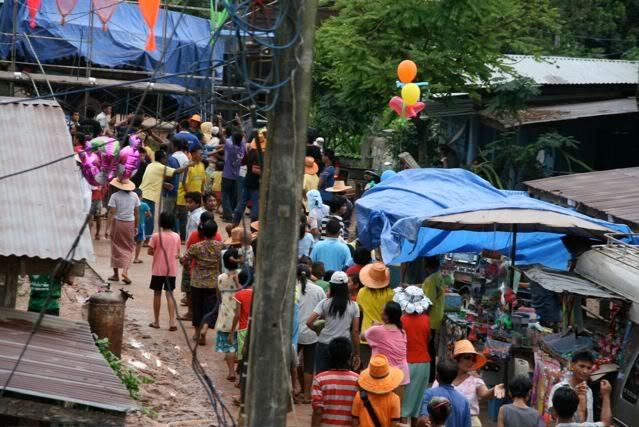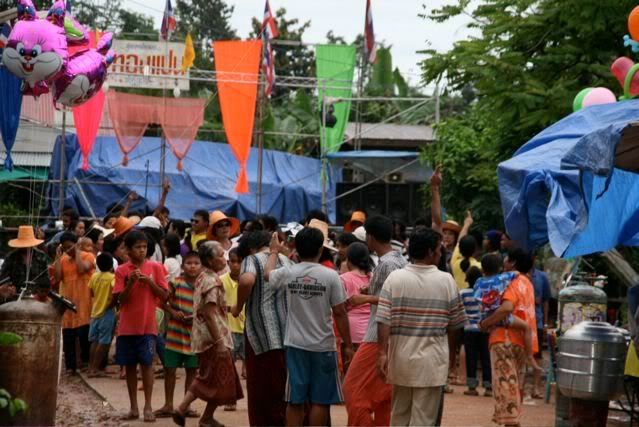 Every house-hold was required to pay 200 bath ($8 aus) to cover the 20,000 baht it costs to bring the Morlam concert to the village.
For a lot of the older men it was a good excuse to get drunk and look silly and for a lot of the young men boys (they are around 15 – 17 years old) it was also an excuse to get drunk, try and look cool and get into a fight.
It was a real shame and ruined what was a good night as Seerung and I ended up staying awake till 1am just keeping an eye on things as these young thugs were rummaging through our rubbish bin looking for bottles to use as weapons etc. Although there were a few local men who volunteered as security guards for the evening they were unable to stop one fight that broke out up the road a few hundred metres, thankfully away from the concert. You knew something was going on when these young hoodlums all started heading in the one direction and along the way picking up weapons that they had stashed earlier in the evening.
The police were called and apparently the boy who was responsible had disappeared so they loaded up his bike into the back of the police pick up and will talk with him when he eventually comes to claim it at the station. The police were still there when we went to bed (although they were asleep in the front seats of their police car!)
I have been to the village around 10 times before and have never once seen the police and that was the second time in one day they they had come.
The first time was earlier in the day when they arrived and interrupted a cock fight that was happening out in the bush. Gambling is illegal in Thailand which is what was going on here.
I only heard snippets of what the outcome was which included a very old man being let off because of his age and another man who managed to escape.
I will blog about this escape tomorrow as it had devastating consequences a few days later.
Back to the street party…
At the height of all the trouble during the party a mother of one of the boys came and grabbed her son and begged with him not to get in trouble. He shrugged her off saying that it wasn't a problem as he will just pay the police off if he gets caught. Ahh ain't corruption a wonderful thing!
During the evening Seerung would tell me about her fantastic memories of this type of concert and how it used to be trouble free and such a family occasion and how it had all changed and every bit of it for the worst.
Although I am a country music fan and I guess Morlam is the country equivalent for Thailand it really didn't do it for me. It was more about the story telling then the music it seems. As I said we went to bed at 1am and as you can see from the picture which was taken from my balcony the stage wasn't very far away and the music kept on blaring until it finally finished at 4am!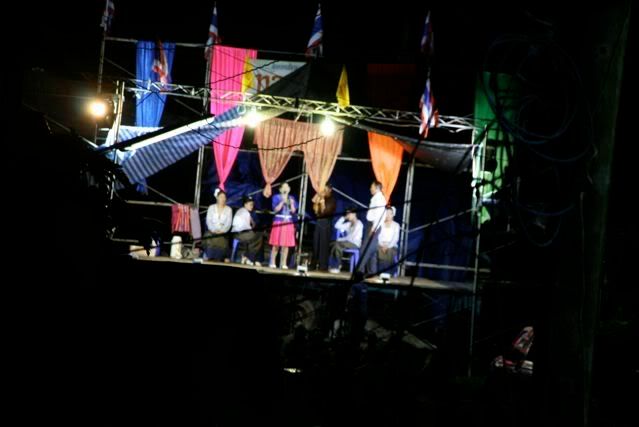 Today was a fairly non eventful day with the usual 5.30am start and the morning spent either having breakfast, getting kids up and fed and on the computer cursing the lack of internet. I also took both kids for a ride on the motorbike Thai style up to Auntie Mams to get some lemons for the marinade I was doing to go with the spare ribs I picked up in Ubon yesterday. I plan to cook them on some coals tomorrow.
With the lack of internet I knew that I would need to head into town again so downloaded some photos, wrote up yesterdays blog and answered emails before heading into town at midday.
I would have been back by 3pm apart from a nice diversion as the husband and wife owners of the computer shop were I connect invited me to join then for lunch. We had a great time muddling along with my Thai but managed to briefly cover all the usual topics such as politics, sport and our respective countries and of course food! Back by 4pm and helped unpacked the blinds that we picked up yesterday from Ubon. After a minor heart attack after we thought they were the wrong size my Brother in Law Somboon set to work. Somboon likes to drill holes first and ask question later while I am a more instructions type sort of a bloke. We work well together as he has a more practical mind and is better at using tools then I am but at least I managed to save him (twice) from drilling in the wrong place and managed to convince him that getting it straight AND centred is actually worth the few extra minutes! 1 hour later and it was dark and we had finally finished our first curtain, 12 more to go!
Before we started on the curtains we had one fan that needed erecting on the front balcony.